CHarity
CHarity bodhrán?
In 2015 we released a special limited edition of the CoreLine series because of the 10th anniversary of bodhran-info. The edition was limited to 10 drums, which were sold very quickly. An eleventh drum of the same edition was auctioned off for charity on ebay.
We liked the idea so much that we decided to release a special edition regularly to support a good cause. Every edition will be limited and it's a great occasion to get a special drum. Over the years, we had some great models, as you can see in this little gallery:

CHarity Orchid Edition
Here is the CHarity bodhrán 2018: The CoreLine CHarity Orchid Edition. The Orchid Edition comes in the four CoreLine sizes slim, bullet, universal and classic and are beautifully decorated: Both the frame and the skin sport an orchid, which are produced using a special stain technology. This leads to a natural and unobtrusive look. The skin is playable like any other skin, the staining technology is tried and tested over the years.
Apart from the special design the CHarity 2018 has all features of a normal CoreLine bodhrán:
In creating the CoreLine, we drew from the very core of our experience and competency in bodhrán making. From the choice of material to the construction of the frame and the finish of the surfaces, all components and details are perfectly balanced. Our core values are attention to detail and great craftsmanship. We use "EdlauerSelect" Premium Goatskin, which is produced and refined exclusively for Hedwitschak drums by a world leading skin manufacturer. The process is carried out in accordance with our special specifications, and each skin is purposefully selected for the various CoreLine models. The multipoint tuning system works smoothly and allows for precise, quick and easy tuning. Thanks to the skillful shaping of the inner part of the tuning rim, the hand nestles naturally into place and is therefore very comfortable to play.
The high quality of the CoreLine is emphasised by a classy cherry tree veneer. With the intricate contours and the flush to the rim skin mounting, the design of the CoreLine bodhrán demonstrates simple elegance and timelessness.
Even though this series of eight drums is lavishly decorated, we are glad to offer them to the price of a normal CoreLine of the same size! The additonal work should not drive the price up, it's a CHarity project after all. There will only be eight drums with exactly this decoration, so the CHarity orchid edition will become highly sought after collectors' items.
62,50€ per drum sold will go to Médecins Sans Frontières (MSF), Doctors without Borders, an organization we admire and which we started to support in 2017.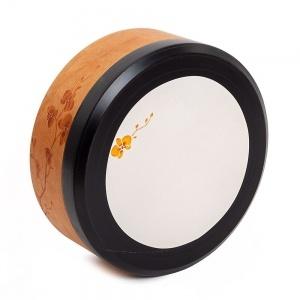 Netto: 235.29 EUR
The smallest model
diameter 35 cm
frame depth 12 cm
Orchid Design on skin and outer frame
cherry veneer exterior
Availability

: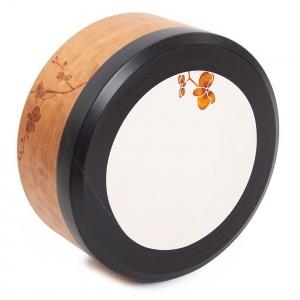 Netto: 243.70 EUR
The compact model
diameter 35 cm
frame depth 15 cm
Orchid Design on skin and outer frame
cherry veneer exterior
Availability

: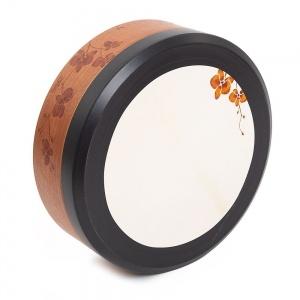 Netto: 260.50 EUR
The classic model
diameter 40 cm
frame depth 13 cm
Orchid Design on skin and outer frame
cherry veneer exterior
Availability

: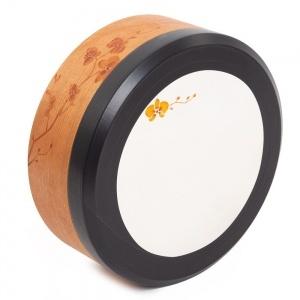 Netto: 252.10 EUR
The universal model
diameter 37 cm
Orchid Design on skin and outer frame
frame depth 14 cm
cherry veneer exterior
Availability

:

Copyright MAXXmarketing GmbH
JoomShopping Download & Support