The StartHED
Even the smallest ones should not miss out. This bodhrán, developed for children's needs, leaves nothing to be desired. Ideal size, safely designed tuning system and the option of using the bodhrán as a table drum make the StartHED the ideal introduction for children. 
The Concept
Developed specifically for children aged 4-10, the startHED offers an easy and playful introduction to the world of drum and bodhrán playing.
A tool-less, three-point tuning system makes the drum easy to tune, and resilient to possible tuning mistakes or to being put out of tune by accident.
Although the startHED was designed for children (with rounded edges, and without any dangerous gaps, holes, or angles), it is NOT A TOY, but a musical instrument.
The Skin
As the tuning screws protrude from the frame, thus permitting the sound to escape even when placed on a flat surface, the startHED can also be used as a table drum.
The startHED is equipped with a natural drum skin specifically selected for this purpose and is guaranteed to be of European origin (traceable!). A taped edge allows for a more harmonious sound.
The StartHED comes with a specifically developed kid´s tipper by Stevie Moises and in a fitting drum bag with shoulder strap and carrying handle.
startHED means joy of playing right from the start… so get startHED!
Notes on the StartHED
Not suitable for children under 4 years
This product is not a toy, but a musical instrument made and designed for the systematic musical education of children aged 4-10, for making music, and for learning the bodhrán playing technique.
The startHED may only be used under adult supervision.
Damaged startHED drums must not be used – risk of injury!
The startHED drum may only be played with either the hand, or with drumsticks that are made and suitable for the child's playing technique and age. Each startHED drum is delivered with a suitable drumstick.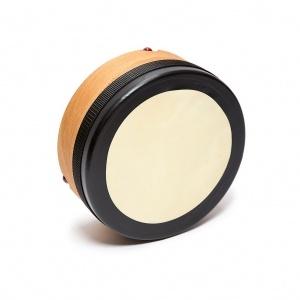 € 199,00
Netto: € 167,23
Incl. 19 % TAX
plus shipping
25x10 cm
3-point-finter tuning system
goat skin, taped
plywood beech/poplar
incl. fitting drum bag with shoulder strap and handle
incl. specifically developed kid´s tipper by Stevie Moises
Quantity:
available, delivery time 2-4 days*